If you dread a trip to the department store or your local mattress retailer, you have more options than ever before. Brick and mortar specialty stores are no longer the default destination for mattress shopping. Great mattresses at fair prices can be found through online retailers—and the competition is heating up.
We tested queen-size mattresses (60 inches wide by 80 inches long) because they are the most common size purchased. (For some perspective, the other standard dimensions are king, 76×80 inches; California king, 72×84; full, or double, 53×75; and twin, 38×75.)
We subjected each mattress we reviewed to a battery of tests, including running a 308-pound roller over each one 30,000 times to simulate up to ten years of nightly use. Even still, there is a lot you should know before you make the big purchase. After all, you will be spending about a third of your day (that's eight hours of shut eye every night) sleeping on your mattress.
Compare the Types
If you're shopping for a new mattress, you could be overwhelmed by the variety of choices and prices, ranging from too-low-to-believe to astronomical. But there's good news: Our years of testing have shown that, whichever type you choose, you only need to spend around $1,000 for a comfortable, supportive mattress. Here are the major types you'll see: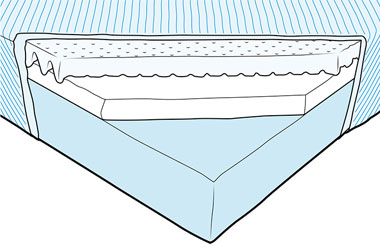 Foam
Foam is a favorite of people who take our survey and suffer from back and joint pain. Though many manufacturers use polyurethane to create their foam layers, some might use latex as well. Some mattresses include both. Foam softens when you lie on it and soon molds to your body. Once you get up, it springs back to its original shape. Some foam mattresses require some effort to change position. (We measure for this in our ratings.)
Innerspring
More than 60 percent of mattresses sold today are innerspring mattresses. These traditional mattresses are composed of steel coils in various configurations. Variations can include special layers of cushioning, a pillowtop layer, and infused gel. Hybrids have one or more layers of foam on top of the springs. Shifting positions tends to be easy, but on some models, particularly the ones that don't have many foam layers, your sleep partner might feel an annoying bounce when you do so. (If you're concerned, don't worry—we test for this tendency.)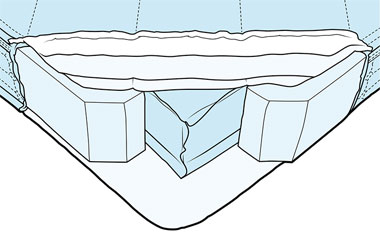 Adjustable Air
You can inflate this type of mattress to your desired firmness using an electric pump attached to the bed. These typically include additional layers on top, such as foam. Most also let you inflate individual halves to different firmnesses to suit each sleep partner. But if you want to adjust the bed during the night, know that the pumps can be noisy.
Three Mattress Myths
Common claims that haven't held up in our tests:
The More Coils, the Better
The better innerspring models we test have 600 to 1,000 coils. But even if one mattress has more coils than another, the coils could be made of thinner-gauge metal. You'll also hear about coil variations such as Bonnell (hourglass type), continuous wire, and individually pocketed springs. None of those is inherently superior.
Gel Provides a Cooler Sleep
More than half our innerspring mattresses (noted in our mattress ratings) have a layer of gel-infused foam that's claimed to provide a cooling effect, though it's worth noting that 10 percent of the mattresses with a gel-infused layer still retain warmth. Overall, our tests have shown that innerspring mattresses containing gel did tend to sleep slightly cooler, but the reverse was true with gel-infused foam beds.
Extra Lumbar Support Helps Back Sleepers
A special lumbar-support zone is one of many ways manufacturers try to differentiate their product lines. But there's no guarantee that it makes any real difference, and it hasn't shown significant benefits in our tests.
Forget About Comparison Shopping
If you like a mattress at one store and ask elsewhere for something similar, you're likely to be steered toward a same-brand mattress claimed to have the same construction, components, and firmness. Mattress makers offer some lines nationally, but when those brands are sold through major chains such as Macy's or Mattress Firm, they're typically exclusive to those chains. And manufacturers don't publish a directory of comparable mattresses. So use our ratings as a guide, and insist on the precise make and model that scored well in our tests. Also check our ratings of mattress brands and stores based on subscriber surveys.
Shopping Tips
Lie Down
If possible, lie on any mattress that you're considering. Wear loose clothes, and shoes you can slip off. Make yourself comfortable, and shoo away the salesperson if you're feeling pressured. Salespeople should expect you to take your time. Spend at least 5 or 10 minutes on each side and on your back (your stomach, too, if that's a preferred sleeping position). Panelists who took beds home for a month-long trial rarely changed the opinion they formed after the first night. Shopping online or at a warehouse club? Tryouts aren't usually an option, so checking return policies before you buy is extra-important.
Check Return Policies
Make sure the store offers a full refund or credit toward another mattress. Return periods, often called "comfort guarantees," range from a couple of weeks to 120 days. Some retailers, including Macy's and Sears, charge a 15 percent restocking fee. Some sellers provide free pickup if you want a refund or an exchange, but otherwise, you'll have to pay for it—or cart the mattress to the store. Macy's, for example, charges an $85 pickup fee. And you'll be responsible for any damage.
Try to Haggle
Once you've settled on a model, try to bring the price down. Many businesses, such as warehouse clubs, have fixed prices and won't budge. But for retailers that do negotiate—particularly specialty chains—huge markups allow them to lower prices by 50 percent or more during their frequent sales. Our recommendation: Any time of year, insist on a sale price you've seen for the mattress you know you want, and don't be afraid to walk out if you feel you're getting a raw deal. While it's a little tougher to negotiate online, there are still ways to save.
Don't Be Bullied Into Buying a Box Spring
You might not need it. If your box spring isn't broken and is still structurally sound, consider keeping it and saving money (roughly $150 to $300 for a queen-size). One caveat: Some brands require you to buy their box spring to receive full warranty coverage. Many foam manufacturers recommend a platform base or strong slatted wood foundations.
Understand the Warranty
It can range from 10 to 25 years and covers only manufacturing defects such as sagging and loose or broken coil wires. Coverage is frequently prorated, meaning that it decreases over time.
On Delivery Day
Never accept delivery without inspecting the mattress (and the box spring, if you buy one) for stains and other damage. Also be sure that the mattress has a label that states "all-new material" before you send the driver on his way. If it's not there, refuse delivery. And keep it on afterward in case you have to file a warranty claim in the future. If you bought a bed-in-a-box, inspect the mattress as soon as you unroll it. Call customer service immediately if something appears to be wrong with the mattress or if it's dirty. Take a few photos with your smartphone in case the customer service representative asks for proof of the damage.
Better yet, test out a mattress before you buy it.
Casper
offers a 100-night trial period that lets you get a feel for the mattress before you fully commit. Casper mattresses are sold mostly online, with free shipping, though the company also has two showrooms in New York City and Los Angeles. Although you can't try out the mattress in most parts of the country, you get a 100-night trial with free, no-hassle returns. Another plus: This brand, along with Tuft & Needle, was rated the highest in overall satisfaction in our survey of almost 62,000 respondents.